-- Biography --
Paul-Andé Côté, Artist painter
Born in Pont-Rouge near Quebec City in January 1957, I'm the eldest of a three boys' family. Already, in my youngest years, I dreamt to cross the little Déry bridge and discover the world. When I was four, my father built me a little wooden table and set it up in a room's corner where I would draw for hours.
... Where have those drawings gone? 1 could not say ...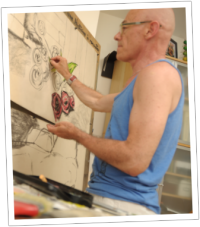 -- Biography --
My path
I saw my first BORDUAS and the big sculptures of Jordi Bonet at nine years old, at the Museum of fine Arts of Quebec and I was very impressed. As I got older, my studies rook me into interior and environmental design. My dream however was to become architect. After my scholarship, I worked for ten years at the conception and realization of interior furniture. Having used a ruler and pencil for all that time, I felt the urge to express myself another way by using a medium of art like dry pastel.
During the next five years I discovered the human body, the emotions and movements. I organized my first solo "exhibition" and shared four collective exhibitions.